7 Ways to Practice Self-Care in the Kitchen
You cook your best when you feel your best.
Self-care: so trendy right now. You might not think self-care and the kitchen go hand-in-hand (especially if you can never seem to get out from a pile of dirty dishes), but as a foodie (and a Virgo) I believe the kitchen is actually the beating heart of self-care in your home. While I love my bathtub and bed as much as the next person, the kitchen is where I prepare the meals that will nourish me and bring me energy throughout the day, a gathering room for family, and a place to connect with friends. Is your kitchen not feeling quite so zen? Here are seven ideas for how to up the good vibes in your kitchen and make spending time there an act of self-care.
1. Sharpen your knives
Ruth Reichl once likened cooking to "meditation at the edge of the knife" and I've always felt that's an apt description for how a methodical task like peeling potatoes or slicing carrots can transport you to a meditative state. A sharp knife demands your attention, but the repetitive motion puts your brain on autopilot. It's like when you're driving down the highway, letting your thoughts roll by, and then all of a sudden you're like, "Whoa, how the heck did I get to Connecticut?" If cutting with a sharp knife feels as blissed out as highway hypnosis on a scenic road, then cutting with a dull knife is about as enjoyable as riding shotgun while your teenager learns stick shift.
Sharpening your knives takes just a few minutes, but makes a world of difference in how safe and comfortable they are to use. Our review of knife sharpeners outlines our top tools, and we've put together a comprehensive guide on knife sharpening that covers everything from how to tell when your knives are getting dull to how to sharpen serrated knives.
Our Favorite Knife Sharpeners
Best All-Around Chef'sChoice Trizor XV Knife Sharpener
This sharpener "purred" with perfection, consistently producing edges that were sharper than on brand-new knives from edge to tip.
Best Buy Chef'sChoice Diamond Sharpener for Asian Knives
This 15-degree sharpener was quick and easy to use, and the result was comparable to the factory-sharpened edge.
Best Manual Sharpener Chef'sChoice Pronto Manual Diamond Hone Asian Knife Sharpener
Our favorite manual sharpener quickly and easily restores a razor-sharp edge to blades that have no serious damage and the tool can easily be stored in a drawer.
2. Practice mise en place, the culinary version of feng shui
This chef-y term means "setting in place" and is a concept that can help even the messiest cook maintain sanity in the kitchen. The basic principle of mise en place is giving every ingredient and tool a home so that you know exactly where everything is and how to reach it. This begins with how you organize your kitchen; chefs like to see all their equipment instead of hiding it away in drawers or cabinets.
Start by giving yourself easier access to your tools with a utensil holder or a universal knife block. Decant frequently used ingredients into reusable containers for easier and cleaner access. In my house flour and sugar each have their own dry storage containers, salt resides in a crock on my counter, and olive oil and vegetable oil live in squeeze bottles. If I need a splash of oil or a dash of salt, I don't have to fuss with packaging to get it.
When it comes time to actually cook, prep and measure before you start cooking and store each ingredient in its own little prep bowl. Not only is it incredibly satisfying to have your ingredients arranged the way they do on cooking shows, but it takes a lot of the stress out of cooking. All you have to do is focus on the timing and the food, not on locating an awry measuring spoon or mincing a clove of garlic on the fly.
3. (Try to) make washing dishes enjoyable
Washing dishes is the chore I will always try to get out of—I will beg, borrow, and steal to convince my husband to do the dishes instead of me. But when it's finally my turn to step up to the sink, I try to make it as painless as possible. I'm somewhat irrationally obsessed with my dish rack, and I feel passionately about dish soap scents. (My favorite is the calming lavender scent from Mrs. Meyers.)
I also try to use dishwashing time as an excuse to put on some good tunes or catch up on a podcast. I'm currently loving NPR's Life Kit series, and have you heard the "Is Cereal Soup?" mini episode of Proof yet? I feel deeply satisfied [producer] Sara [Joyner] was able to conclude a debate that has preoccupied me for years.
Dish Washing Essentials
Our favorite dish drying rack Simple Human Steel Frame Dishrack
This large rack has two roomy utensil holders, a seven-slot knife block, and a ledge that can hang four wineglasses upside down so they dry spot-free.
Our favorite dish soap Mrs. Meyer's Clean Day Liquid Dish Soap, Lavender
This "97% naturally-derived" dish soap cut through caked-on grime quickly and effortlessly, and testers loved its "clean," "herbal" lavender scent.
4. Replace your sponge and your dish towels
Here's a way you can improve the vibe in your kitchen in less than 30 seconds: replace your sponge and break out a fresh dish towel. Kitchen towels and sponges are both meant to get dirty, but just like putting on a fresh shirt after a long run instantly makes you feel cleaner, so does swapping out your sponge and towel. (Also do you know how disgusting those dirty sponges are?)
5. Make something with your hands
Tactile activities have been scientifically proven to help with anxiety. My favorite thing to make with my hands is fresh pasta. I come from a big Italian family, so kneading pasta dough, rolling out sheets, and cutting shapes feels both soothing and connecting, like I'm getting in touch with my roots.
It's been an easy and delicious hobby to learn new pasta shapes or try new techniques. I was recently gifted a chitarra to make traditional Abruzzese square-shaped spaghetti; it's shaped like a guitar and you roll the dough over the strings and then "strum" them to release the noodles. Some of my other favorite "hands-on" recipes are Bang Bang Noodles, Potato Gnocchi, and Ultimate Flaky Buttermilk Biscuits.
6. Don't skip the fresh herbs
To me there is no better smell in this world than sage, thyme, garlic, and onion simmering in butter. (Why isn't there a candle for that yet?) It instantly transports me to childhood Thanksgivings and cozy fall nights. I think the only scent that comes close is the sweet smell of fresh basil and toasted pine nuts blending into pesto—the epitome of my childhood summers.
Until someone invents a culinary-themed diffuser (million-dollar idea for all you inventors out there!), get your dose of kitchen aromatherapy with some fresh herbs. You can grow them indoors in small pots or planters, buy them at the store and keep them fresh in an herb keeper, or if you're severely lacking a green thumb you can get an indoor garden that does most of the work for you.
Fresh Herbs Within Reach
Our Favorite Herb Keeper Cole & Mason Fresh Herb Keeper
Our winning herb keeper is easy to use thanks to its adjustable height, and it kept cilantro and thyme fresh the longest.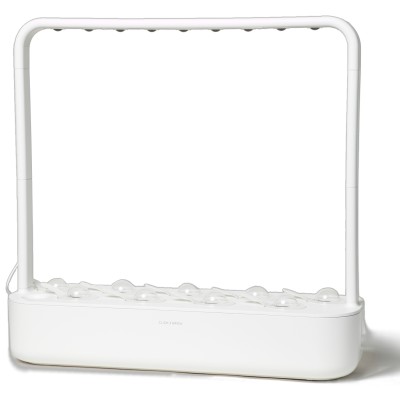 Our favorite indoor garden Click and Grow Smart Garden 9
This attractive garden was remarkably hands-off and intuitive. Healthy plants sprouted within a week, and the garden yielded abundant lettuce and basil over two months.
7. Eat on plates you love
Pretty bowls and forks make the act of eating enjoyable. In my opinion, pasta bowls are the epitome of food vessels: half bowl, half plate, 100% Instagrammable. Heck, my husband once served hot dogs and mac and cheese in these pasta bowls from West Elm and it still felt luxurious.
I know the all-white kitchen aesthetic is super "in" right now, but I love a good burst of color, which is why we also have these pasta bowls in red, pink, and purple. This isn't just about pasta bowls (or is it?), but finding dishes that are truly a joy to use. For you that may be a collection of mugs accumulated over the course of your travels, your great grandmother's wedding china, or a neat stack of perfectly polished white plates. Whatever it is, invest time in finding tableware you love; you'll likely be using it every single day.
Illustration by Emily Phares
---
What methods do you use to practice self-care in the kitchen? Let us know in the comments. And for more equipment tips, check out these articles: