Summer Entertaining
Summer Entertaining with America's Test Kitchen: Tucker Shaw's Mexican-American-Hawaiian Mashup
Mexican for dinner, Hawaiian for dessert, and a whole lotta soul music.

Summer has officially arrived, which means it's time to take the party outdoors. Each week from now until Labor Day, cast members from our TV shows and editors from our magazines will be laying out the details for their ideal summer party, from the music played to the menu to—most importantly—the drinks available at the bar. Today, we party with Cook's Country magazine editor-in-chief Tucker Shaw.
---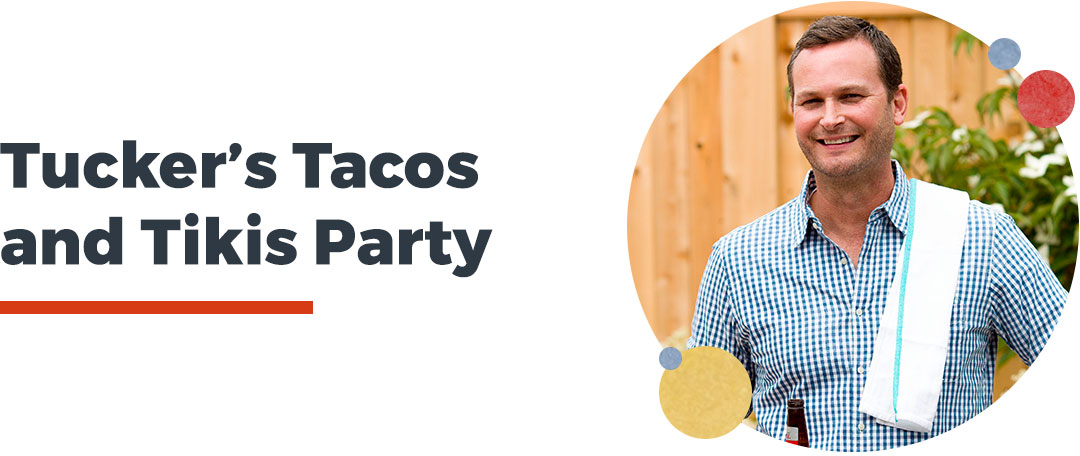 My party is a Mexican-American-Hawaiian mashup that starts a half-hour before sundown, when the midsummer heat starts to back off in favor of a more comfortable, breezy evening. Three cardinal rules for a backyard party: Get as much as possible done ahead of time, make sure there are enough seats for people (even if they end up standing, you don't want a musical chairs situation), and lean on paper plates (our favorites are Hefty Super Strong Paper Plates) so that the prospect of cleaning up is less daunting. (Ed's note: Recipes are free until July 27th, 2017.)
Citrus-Braised Pork Tacos: Inspired by Yucatan-style cochinita pibil, this soft, flavorful, sweet-savory pork taco filling can be (actually should be) made a day ahead. Quick pickled red onions and a screaming-hot habanero sauce make these tacos vibrant and exciting.
Homemade Flour Tortillas: Our recipe calls for traditional corn tortillas (the test kitchen's favorite brand of corn tortillas is Maria and Ricardo's Handmade Style Soft Corn Tortillas, Yellow), but I'd also offer flour tortillas here, because people have preferences. Flour tortillas are much easier to make than you'd think (do it early in the day, before the party) and exponentially better than store-bought.
Pineapple Salsa: This superflavorful, supereasy condiment comes together in a flash and is equally at home spooned onto a taco as it is scooped onto a tortilla chip (our favorite chips are On The Border Café Style Tortilla Chips).
Husk-Grilled Corn with Cilantro-Lime Butter: Grilling the corn is the only cooking I'll do during the party, and when I say cooking, I really just mean standing next to the grill wielding tongs and looking important because this recipe takes very little effort. Also, the flavorful compound butter can be made well ahead of time.
Dessert: Chocolate Haupia Pie. This coconut-chocolate showstopper of a summertime pie is ubiquitous in Hawaii but not as well-known on the mainland. It's more forgiving than its two-tiered profile would suggest, and because it needs at least 3 hours to chill in the fridge before serving, you have no choice but to finish it well before the guests arrive and the drinks start flowing.
Cocktail/Beverage: Mai tais to welcome guests and then beer. Insanely cold beer. And lots of it. (The test kitchen's favorite Mexican lager is Tecate.)
The Playlist
I wouldn't say no to a Don Ho mix, but for a relaxed warm-evening party like this, I'd probably pipe in some classic, crowd-pleasing American soul music. Think Marvin Gaye, Gladys Knight, Otis Redding, Ohio Players, Sam Cooke . . . all those lazy, hazy summer tunes that make the world feel friendlier.
Other Details
To get ears of corn fully covered in the flavored butter, make a foil boat: Fold one 14 by 12-inch piece of heavy-duty aluminum foil in half to create a 7 by 12-inch rectangle, and then crimp the rectangle into a boat shape long and wide enough to accommodate one ear of corn. Transfer the butter mixture to your foil boat, and roll the corn in the butter. Also, keep your tortillas warm. (Our favorite tortilla warmer is made by Imusa.)
Bookstore
The Best Mexican Recipes
Let America's Test Kitchen be your guide to making deeply flavored Mexican dishes at home. Our first Mexican cookbook features foolproof appetizers, soups and stews, authentic egg dishes, tacos and tamales, burritos and enchiladas, and all manner of meat and seafood dishes.
What are your summer entertaining plans? Let us know in the comments! And for Bridget's entertaining plans, read this post!