Summer Entertaining
Summer Entertaining with America's Test Kitchen: Jack Bishop's Spanish Ode to Summer
Paella on the grill kicks things off (served with some sangria of course), while Enrique Iglesias puts everyone in the mood to bailar.

Summer has officially arrived, which means it's time to take the party outdoors. Each week from now until Labor Day, cast members from our TV shows and editors from our magazines will be laying out the details for their ideal summer party, from the music played to the menu to—most importantly—the drinks available at the bar. Today, we party with America's Test Kitchen's chief creative officer (and taste test extraordinaire) Jack Bishop.
---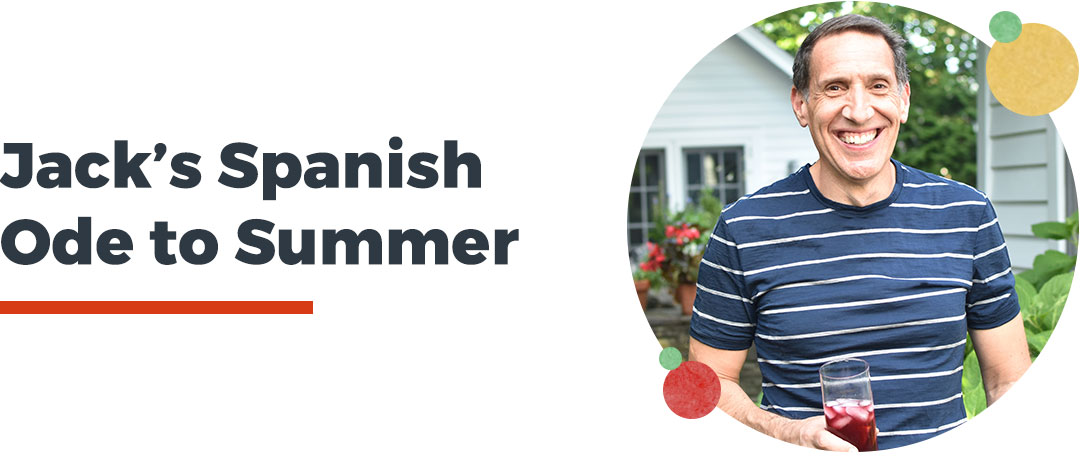 I'm a bit of a show-off (at least I can admit it) when it comes to entertaining. Given my job, friends and family have expectations, and I don't want to disappoint. But I also don't want to miss the party. I generally pick one dish that requires attention, and everything else can be served at room temperature. (Ed's note: Recipes are free until August 3rd, 2017.)
Paella on the Grill: This recipe calls for using a roasting pan on the grill, and it looks so cool. And it features all my paella favorites—chicken thighs, chorizo, shrimp, and clams. (Personally, I'm not a fan of mussels, and squid is pretty hard to cook right in this dish.) Best of all, making something on the grill lets me hang out where the party is.
Big Salad with Make-Ahead Sherry-Shallot Vinaigrette: Given that the main course requires some effort, I keep the rest of the meal simple. Marcona almonds, some Spanish cheeses, and a mix of olives to start. Then a big salad with whatever looks good at the farmer's market: ideally two or three local greens, thinly sliced radishes, shaved fennel, and a sprinkling of fresh herbs from my garden. The sherry vinegar adds a Spanish touch, and this miracle dressing can be made up to one week in advance.
Cocktail/Beverage: I offer a crisp Albarino from Spain and make The Best Sangria for those who want something red, fruity, and chilled.
Dessert: Orange-Cardamom Latin Flan. This creamy Latin American riff on the Spanish classic is my favorite version of this recipe. This impressive dessert can be made up to four days in advance. And serving something chilled is perfect for summer entertaining.
The Playlist
We listen to a lot of Latin music in my house, and that sounds perfect for this menu. Juan Luis Guerra from the Dominican Republic is a favorite. His music is a great blend of merengue, salsa, bachata, and pop. Here's the full list:
"Vivir Mi Vida" - Marc Anthony
"La Camisa Negra" - Juanes
"Bailando" - Enrique Iglesias
"Guantanamera" - Celia Cruz
"Suavemente" - Elvis Crespo
"Niagara en Bicicleta" - Juan Luis Guerra
"El Cantante" - Marc Anthony
"La Tortura" - Shakira
"El Amante" - Nicky Jam
"Despacito" - Luis Fonsi
"Fotografía" - Juanes
"Odio" - Romeo Santos
Other Details
I don't cook without my trusty Oxo tongs at the ready. From moving stuff around on the grill to tossing salad greens, they are essential. [Buy on Amazon]
Smart Cooks Shop Here
The Complete Mediterranean Cookbook
Besides the cuisine's reputation for being downright exquisite, the Mediterranean diet has been proven to be among the most healthy on the planet. This book is packed with 500 foolproof recipes you'll love to eat (and feel good about eating).
What are your summer entertaining plans? Let us know in the comments! And for more party inspiration from our cast and editors, read these posts: