Summer Entertaining
Summer Entertaining with America's Test Kitchen: Becky Hays's Thai Dinner from the Grill
Thai-style Cornish game hens are the star of the show, and they're supported by delicious shrimp spring rolls and sticky rice.
Summer has officially arrived, which means it's time to take the party outdoors. Each week from now until Labor Day, cast members from our TV shows and editors from our magazines will be laying out the details for their ideal summer party, from the music played to the menu to—most importantly—the drinks available at the bar. Today, we party with America's Test Kitchen cast member Becky Hays.
---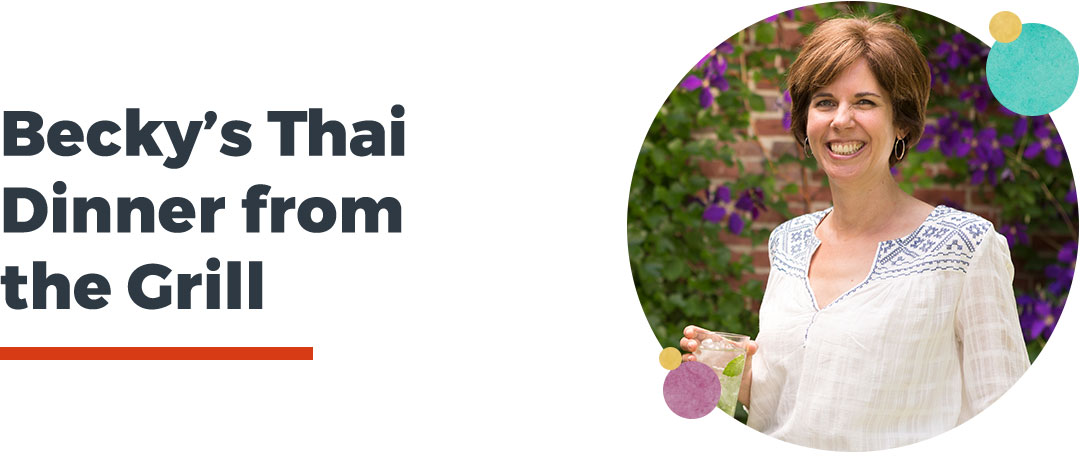 I like to host small get-togethers, usually with an ethnic theme since I enjoy big, bold flavors. It's fun to introduce guests to dishes they may not have had before, and my Thai Dinner from the Grill is bright and refreshing and therefore perfect for a summer gathering on the back porch. (Ed's note: Recipes are free until August 10th, 2017.)
Southeast Asian–Style Spring Rolls with Shrimp: This is the first recipe I ever developed for Cook's Illustrated, and it's still one of my go-to appetizers. It's nice and light, so it won't spoil anyone's appetite. Prep everything ahead of time, including the Peanut Dipping Sauce, and then let people help assemble the rolls.
Thai Grilled Cornish Game Hens with Chili Dipping Sauce (Gai Yang): Cornish hens are ideal for entertaining—each guest gets his or her own personal bird—and the high ratio of skin to meat means there is lots of opportunity for grilled flavor. Keep an instant-read thermometer, such as our favorite ThermoWorks Thermapen [Buy Now], in your pocket to guarantee that the birds are cooked to perfection.
Thai-Style Sticky Rice (Khao Niaw): The unique texture of this rice makes it fun to eat. What's more, it's great for soaking up the spicy dipping sauce that accompanies the hens.
Steamed Bok Choy: The somewhat fiery main dish calls for an ultrasimple side. Baby bok choy will look pretty on the plate if you can find it. Otherwise, choose another fresh-looking green vegetable at the market.
Strawberry-Rhubarb Pie: This pie, my all-time favorite, is clearly not Thai, but trust me: Your guests won't care. If pie making isn't your thing, simply set out a large platter of fresh sliced mango (choose small, yellow "Champagne" mangos) and pineapple.
Cocktail/Beverage: Ice-cold Thai beer and limeade, which is a snap to make if you have a citrus juicer. (We like the Dash Go Dual Citrus Juicer.) I like to send guests into my garden to pick fresh mint as a garnish.
The Playlist
I don't stress out over a playlist. For summer gatherings, I often tune to the reggae station on Pandora. Reggae is happy, and if the sun fails to shine, the music will warm things up.
Other Details
Have extra aprons available. With a drink in hand, most guests will be thrilled to help with finishing touches or hang out at the grill. It makes the atmosphere more relaxed—and more fun.
Keep to-go containers on hand so you can send guests home with leftovers, the best kind of party favor.
Smart Cooks Shop Here
175 MEALS READY IN 1 HOUR OR LESS Dinner Illustrated
With our book, Dinner Illustrated, we show you that it is possible to get dinner ready in 1 hour or less for easy weeknight cooking. Every recipe has seven photos that take you from start to serve with no advance prep required.
What are your summer entertaining plans? Let us know in the comments! And for more party inspiration from our cast and editors, read these posts: