Summer Entertaining
Summer Entertaining with America's Test Kitchen: Lisa McManus's "Summertime" Party
Come for the flat-iron steaks and grilled scallops, and stay for the smooth soul music.

Summer has officially arrived, which means it's time to take the party outdoors. Each week from now until Labor Day, cast members from our TV shows and editors from our magazines will be laying out the details for their ideal summer party, from the music played to the menu to—most importantly—the drinks available at the bar. Today, we party with America's Test Kitchen's resident gadget expert, Lisa McManus.
---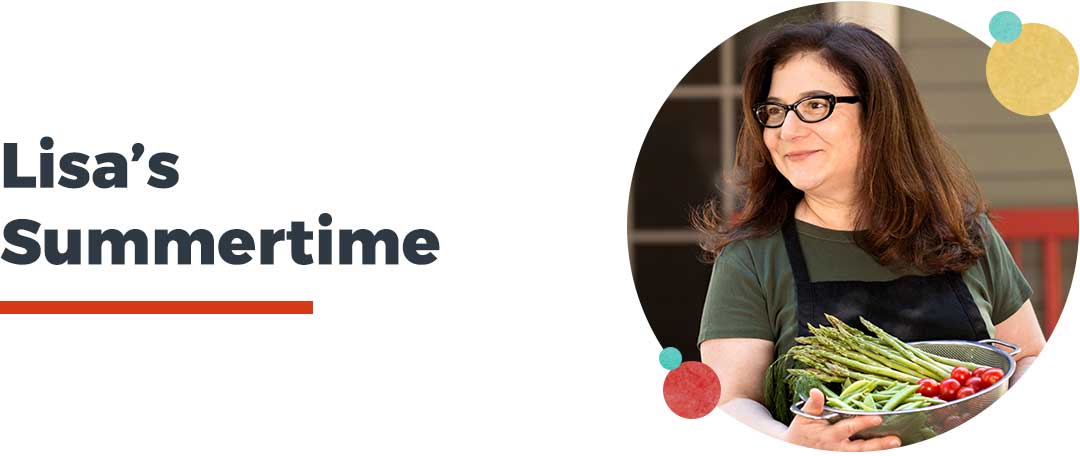 After too much experience with getting overly ambitious about cooking when people are coming over, I now usually go far in the opposite direction: Everything has to be easy, easy, easy. There's no point to me being distracted or stressed. My party is just called "Summertime" for the great Gershwin song. (Ed's note: Recipes are free until August 17th, 2017.)
Grill-Smoked Herb-Rubbed Flat-Iron Steaks: Most people can't resist sizzling grilled steak. This recipe delivers big flavor fast, so you're not chained to the grill. Grilling wedges of lemon seems to both heighten and mellow their flavor, providing a lovely contrast to the rich, savory slices of slightly smoky steak, which has been rubbed with herbs. This is beautiful and delicious, and just between you and me, it looks like you worked way harder than you did.
For guests who don't eat red meat, and just because I love any excuse to eat seafood—and because nobody ever quite gets enough scallops in life, let's be honest—I'd also throw on a lot of sweet, succulent Charcoal-Grilled Scallops. This recipe has to be one of the all-time biggest payoffs for the least amount of work. So good.
Garden-Fresh Corn is a quick make-ahead dish served at room temperature and, with its zucchini and fresh corn, pretty much screams "summer."
Farro Salad with Asparagus, Sugar Snap Peas, and Tomatoes is hearty but not heavy and (do you sense a theme here?) is easy and fast to put together ahead of time. I'm a big fan of farro, which cooks in about 15 minutes.
Dessert is light and summery, too. Honeydew, Mango, and Raspberries with Lime and Ginger is a fruit salad that uses a cocktail technique, muddling fresh lime juice and sugar to make a lovely light syrup that marries and enhances all of its flavors. Last time I brought this to a brunch, the kids of the family tried it and then stole the bowl and ate it all. Luckily the rest of us got some first.
For a little rich, buttery contrast, this simple, classic shortbread goes a long way toward making people happy. And that's what it's all about.
Cocktail/Beverage: Good wine, mojitos, and pitchers of fresh homemade lemonade.
The Playlist
Summery, smooth, soulful. Temptations, Sam Cooke, any/all of Etta James's greatest hits, Billie Holiday ("All of Me," "Summertime," "Me Myself and I"), Patsy Cline ("Crazy," "Walking After Midnight," "Sweet Dreams").
Other Details
If your grill grate is not clean, you're going to taste the soot instead of the food. For crisp, distinct grill marks, follow this routine every time: Thoroughly preheat the grate with the lid down, scrub it with a good grill brush (we prefer Grill Wizard), and then wipe the newly smooth grate quickly with oil-dipped paper towels, held with our favorite grill tongs, the Oxo Good Grips 16" Locking Tongs [Buy on Amazon]. Now you're ready to cook.
Bookstore
The Complete Make-Ahead Cookbook
The key to enjoying your own parties is making most of the food in advance. Our new book, The Complete Make-Ahead Cookbook, offers you 500+ foolproof, year-round recipes for everything from appetizers to desserts, along with the test kitchen's trademark tips and techniques to ensure that your make-ahead dishes really shine.
What are your summer entertaining plans? Let us know in the comments! And for more party inspiration from our cast and editors, read these posts: