Summer Entertaining
Summer Entertaining with America's Test Kitchen: Bryan Roof's Saturday at the Grill
The bar is serving up some smoky mezcal gimlets, and we've got Waylon Jennings and The Band on the jukebox. Not a bad little Saturday.

Summer has officially arrived, which means it's time to take the party outdoors. Each week from now until Labor Day, cast members from our TV shows and editors from our magazines will be laying out the details for their ideal summer party, from the music played to the menu to—most importantly—the drinks available at the bar. Today, we party with Cook's Country executive food editor Bryan Roof.
---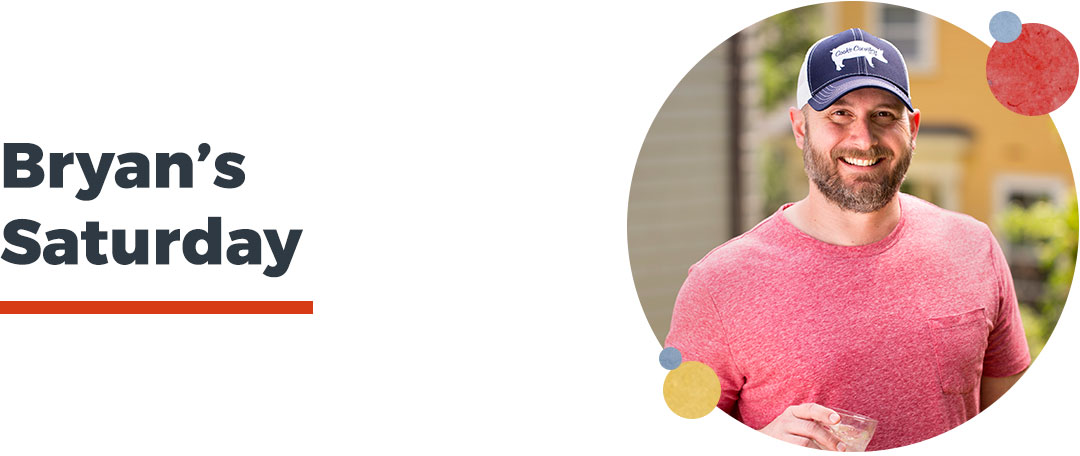 I like to party, I like to eat, I like fire, and I like meat (that's the first song off my second album). In the summer, I often plan an entire Saturday around the grill, stoking the fire, sipping on a drink, maybe smoking a cigar. Therefore, my party is aptly named "Saturday." (So creative.)
I'll fire up the grill early in the morning and usually have people start trickling in somewhere between 2 p.m. and 4 p.m., just in time to enjoy the heat of the day. So, maybe this means guests get a little sweaty and smoky, but I think you should leave a good barbecue feeling like you need to take a shower. We'll ride the party into the evening and kick up the fire pit before it's all over. Occasionally, we throw hatchets for sport. (Ed's note: these recipes are free until August 24th, 2017.)
First things first, I don't do appetizers, unless my wife makes me. This is because I usually go overboard with the rest of the food and I want to minimize leftovers. But in case you do appetizers, I'd like to pass down the advice my mother gave me: Make it salty, make it spicy. It encourages your guests to drink, maybe a little more than usual, which always makes for an interesting party. I like interesting parties.
The best part about being food editor of a magazine is that you can skew all the recipes to your own personal tastes, most of the time. So, all my go-to recipes come from the Cook's Country archives. I fell in love with the pork sandwiches at Hite's Bar-B-Que in West Columbia, South Carolina, several years ago and have been addicted to our version of South Carolina Smoked Fresh Ham ever since—though when I make it at home, I usually cook it through entirely on the grill and just use the oven to crisp the skin. For a nonpork alternative, I'll opt for this Texas-Style Barbecue Beef Shoulder. It's simple and surprisingly good for the minimal effort.
What's a barbecue without the proper side dishes? Sides should be refreshing and interesting enough to stand on their own. I always opt for Texas Potato Salad and Spicy Barbecue Coleslaw. True story: The first potato salad I ever ate in Texas tasted exactly like this one . . . and that was two years after we published this recipe. Think about that. The beauty of slaw is that it's not only a side but also a sandwich topper, and if given the opportunity, it's always going on my sandwich.
Dessert is usually something very simple, like this Easy Blueberry Cobbler. It's perfect because there are both minimal ingredients and minimal effort involved (there's a laziness theme developing here), and it can be cooked off long before the guests arrive. As an alternative, I'll often have fresh melon, runny cheese, and grilled bread doused in good olive oil.
I love mezcal, the smoky, more elegant sister of tequila (your personal interpretation of "elegant" may vary with brand), so that's what we're drinking. What goes better with smoked meat than smoked drink? I like a simple, tough-and-tender mezcal gimlet. The ratios are 2:1:1—mezcal, lime juice, simple syrup, respectively.
The Playlist
There will be a variety of music from Waylon Jennings to the Grateful Dead to The Band. The music matches the food and dictates the vibe of the party—until the hatchets come out.
Other Details
I have no qualms about serving room-temperature food if it means I get to enjoy the party. So, make ahead what you can make ahead and just let it chill. If there's anything I'll leave until the end, it's the protein. Manning the grill always makes for a good show. And no matter what I'm grilling, I'll always add a few wood chunks to the coals for a smokier result.
My current tool of choice for outdoor cooking is a carving fork. It's great for maneuvering big cuts of meat or flipping tender slices of eggplant on the grill. For burgers and fish, I've always got a fish spatula nearby.
Bookstore
The Complete Cook's Country TV Cookbook, 10th Anniversary Edition
All ten seasons of the show are captured in one colorful volume that's like a treasured recipe box brought to life. This collection will teach you foolproof methods for making almost 400 great American recipes. With The Complete Cook's Country TV Show Cookbook in hand, you'll have all the TV show has to offer and more.
What are your summer entertaining plans? Let us know in the comments! And for more party inspiration from our cast and editors, read these posts: