Summer Entertaining
Summer Entertaining with America's Test Kitchen: Keith Dresser's Family Beach House Party
Beer-can chicken will feature on the table, and a mix of bluegrass and Taylor Swift (for the kids) will round out the soundtrack.

Summer is in full swing, which means it's time to take the party outdoors. Each week from now until Labor Day, cast members from our TV shows and editors from our magazines will be laying out the details for their ideal summer party, from the music played to the menu to—most importantly—the drinks available at the bar. Today, we party with ATK TV cast member and executive food editor of Cook's Illustrated magazine Keith Dresser.
---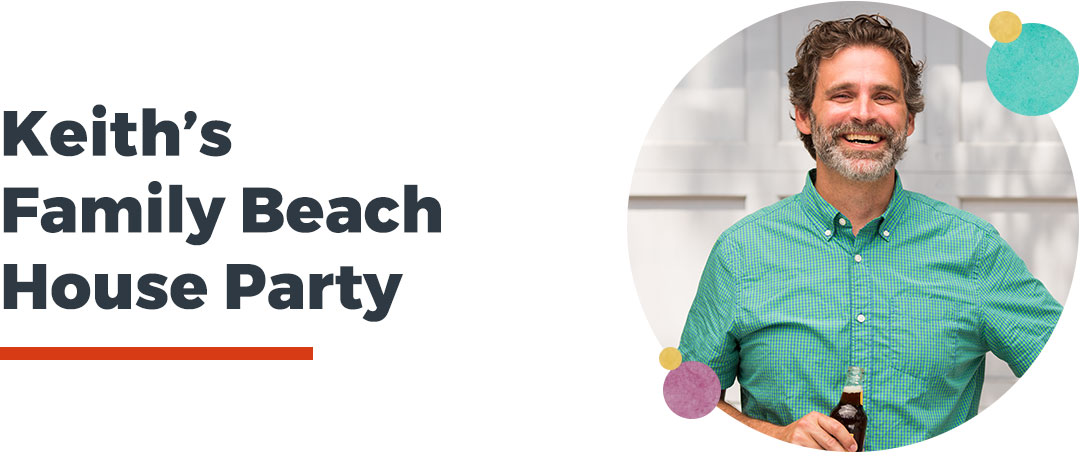 I spend most summer weekends on Cape Cod at a beach house that we share with my extended family. Any entertaining I do is usually for a large group, and there are always lots of kids. (Ed's note: these recipes are free until September 7th, 2017.)
Grill-Roasted Beer-Can Chicken for a Gas Grill: You can't miss with barbecue chicken—it appeals to everybody. This recipe delivers one of the best chickens I've eaten: smoky, spicy, crispy, and juicy. But what I really like about this recipe is that since it's cooked upright on a beer can (or a vertical roaster), I can fit four or five birds on the grill to feed a crowd.
Grilled Corn with Flavored Butter: I find boiled corn boring. This recipe starts by charring the corn over high heat to give it a smoky flavor. It's then finished in a disposable roasting pan with a flavored butter. The kids really like the Honey Butter, while the adults go for the spicy New Orleans "Barbecue" Butter.
Tomatoes: Whether simply sliced and drizzled with a fruity extra-virgin olive oil (one of our favorite premium options is Gaea Fresh Extra Virgin Olive Oil) or tossed with sweet, juicy watermelon in a Watermelon-Tomato Salad, no summer party is complete without garden-fresh tomatoes.
Ice Cream Sandwiches: I start with our Perfect Chocolate Chip Cookies and then get 3 or 4 pints of ice cream from the scoop shop down the road. Have bowls of sprinkles, toasted nuts, and mini chocolate chips available, and then everyone can build their own sandwich. Just make sure to have plenty of napkins.
To sip: I like to start out with a pitcher of vodka gimlets or mix some gin and tonics. After that it's ice-cold beer—preferably a local hoppy IPA. For the kids, it's Strawberry-Lime Lemonade.
The Playlist
It depends on who is in control! If it's me, I'm partial to toe-tapping bluegrass—Bill Monroe or Flatt & Scruggs. But if the kids have control, who knows? How does Taylor Swift go with barbecue?
Other Details
A probe thermometer is an indispensable tool when barbecuing. Stick the probe in the meat and set the alarm. No more overcooked food.
Tip: Let the kids clean up, and enjoy another beer. No dessert until the dishes are done!
Bookstore
Master of the Grill
Get 400+ foolproof recipes, plus clever tips, fascinating food science, and our picks for the best grilling gadgets and equipment. Don't light your charcoal or gas grill without this definitive guide to outdoor cooking!
What are your summer entertaining plans? Let us know in the comments! And for more party inspiration from our cast and editors, read these posts: