Summer Entertaining
Summer Entertaining with America's Test Kitchen: Julia's Off the Grid Dinner Party
Julia's menu is all about fresh herbs, fresh tomatoes, and big, beefy flavor. And if you like reggae, you'll feel right at home at this party.

Summer is nearing its end, which means we have precious few more chances to take the party outdoors. Each week, cast members from our TV shows and editors from our magazines will be laying out the details for their ideal summer party, from the music played to the menu to—most importantly—the drinks available at the bar. Today, we party with America's Test Kitchen and Cook's Country TV host Julia Collin Davison.
---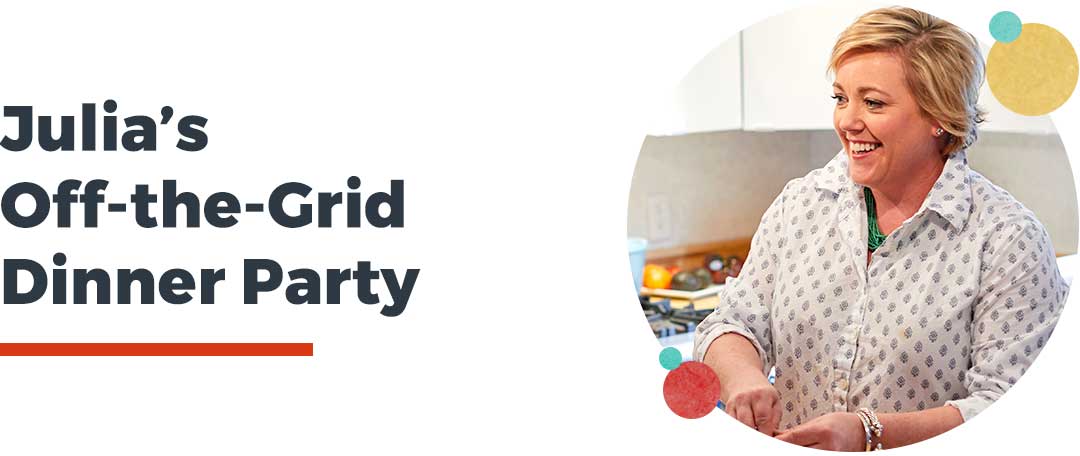 The best part of summer for me is going to my family's quiet cabin in the Berkshires. There's no electricity (and using a cell phone is highly discouraged), but we have a propane stove and refrigerator for cooking, along with a huge, well-loved charcoal grill. As you'd expect, dinner parties at the cabin are very low-key, with folks of all ages spreading out on the deck and lawn to eat and socialize. We have lots of great neighbors—all are either relatives or old family friends—and dinner usually lasts well into the evening with a large campfire, s'mores, and someone strumming a guitar. (Ed's note: Julia's recipe picks are from her new book, Cooking at Home with Bridget and Julia, and are not available on our recipe websites. You can order the book here.)
Easy Grilled Flank Steak (with Herb Sauce): There is a terrific farm nearby that specializes in grass-fed beef, and we usually go there to pick up steaks when throwing a party. I love the big, beefy flavor and chew of flank steak; plus, it's easy to grill for a crowd. My mother put in a small herb garden next to the kitchen, so I like to make a simple, fresh herb sauce to serve with the steak. It's always a real crowd-pleaser.
Heirloom Tomato and Burrata Salad with Pangrattato and Basil: There are lots of local farm stands selling funky-looking heirloom tomatoes, so tomato salad is in regular rotation at the cabin. Over the years, this salad has evolved from a tidy plate of sliced tomatoes and fresh mozzarella to large chunks of tomatoes (they're easier to eat) and fresh local burrata along with a sprinkling of homemade garlicky bread crumbs. It's very a rustic looking platter, but the flavors are out of this world.
Wheat Berry Salad with Blueberries and Goat Cheese: The cabin is surrounded by lots of wild blueberry bushes, so we're always throwing them into whatever we're cooking. This wheat berry salad with blueberries and goat cheese is a real stunner, and I like that it doubles as a good vegetarian main course.
To Sip: Part of the reason for the cabin's herb garden was to grow lots of mint for my father's famous mojitos. They go with everything.
The Playlist
I always play reggae. It's my favorite music for cooking, and it's the perfect mellow background for a laid-back summer party. My playlist would look something like this:
"Satisfy My Soul" - Bob Marley
"Love The Way" - Sevana
"Take It Easy" - Hopeton Lewis
"You Don't Love Me" - Dawn Penn
"Cool Cool Collie" - Hopeton Lewis
"Roller Skates" - Steel Pulse
"Zungguzungguguzungguzeng" - Yellowman
"I Gotta Keep On Moving" - Bunny Wailer
"When the Right Time Come" - The Mighty Diamonds
"There for You" - Damian "Jr. Gong" Marley
Other Details
Over the years, I've learned to skip making any formal appetizer or dessert and just focus on making dinner and enjoying the party. For appetizers, I simply put a good hunk of cheese and some sort of cured meat or pâté, along with roasted garlic or fig jam, on a pretty cutting board. For dessert, I like to serve fresh local fruit with either a drizzle of fresh cream or a scoop of local ice cream along with small, crisp (store-bought) cookies. I also like to have a nice tawny port on hand for after dinner.
Bookstore
Cooking at Home with Bridget and Julia
For the first time, the beloved hosts of America's Test Kitchen and Cook's Country TV share their favorite test kitchen recipes (and the variations they make for their own families). Each recipe is preceded by a personal introduction, and photos of Bridget and Julia cooking and entertaining in their homes appear throughout.
What are your summer entertaining plans? Let us know in the comments! And for more party inspiration from our cast and editors, read these posts: